There are many ways to show your father love and affection, some bigger than others! This Father's Day LoveSac is offering $100 OFF all of their over-sized SuperSacs, making it the perfect gift for any father to rest and relax in.
If you have never sat in a LoveSac, may I suggest that you go out, find yourself a local retailer and sit down; you won't want to get up!
LoveSac's are the ultimate in alternative furniture. How can you resist a massively over-sized bean bags filled with chopped up Durafoam from recycled couches? Not only do they make people super comfy, the LoveSac is fully modular, washable and interchangeable!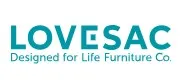 Right now take $100 off all of LoveSac's overseized SuperSac Packages when you use promo code: SUPERDAD and earn 10% in cashback when you purchase a LoveSac using your beruby account